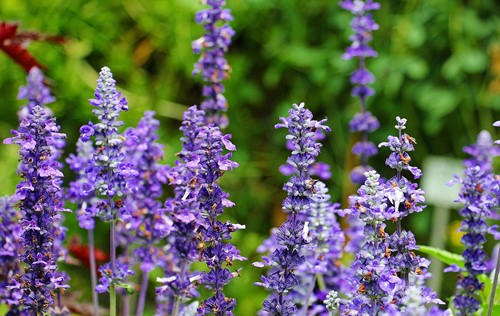 Highlighting and defining your driveway is a simple way to improve your curb appeal. Depending on the amount of space you have, there are countless options for landscaping, hardscaping and edging. For landscaping to line your driveway, there are some important logistics to consider before getting started. One that might seem obvious but worth mentioning is irrigation. It's easy to remember to water the plants right next to your house, but what if you have a long driveway? Do you want to go a longer distance to care for your plants manually, or are you thinking of installing an irrigation system?
Yard and driveway irrigation systems are extremely convenient for larger spaces, but can be expensive and time-consuming to install. To avoid this, use drought-tolerant plants in your landscaping.
What Makes a Plant Drought-Tolerant?
Plants that are classified as "drought-tolerant" only need regular watering in the early stages of their new life lining your driveway. Once established they can go weeks or months without watering. This means less work for you and less money spent up front on an expensive irrigation system. Drought-tolerant plants also help you conserve water and reduce wasteful runoff.
Here are some drought-tolerant plants to consider using for your driveway landscaping:
Lavender
Lavender is a hardy plant that can add beautiful color to your driveway landscape. There are many varieties of lavender with different climate and soil preferences, but all varieties share the same pleasing scent and drought-tolerant qualities. Lavender plants only grow to a maximum height of about 4 feet, so you won't have to worry about creating visibility problems while driving or parking.
Rosemary
Rosemary is another hardy and fragrant choice of drought-tolerant plant. It makes an excellent, dense hedge perfect for borders and edges. It grows quickly and easily and will stay green all year. If left alone, rosemary bushes can grow to over five feet tall, making them a good option if you want shade and privacy. However, with regular pruning it is easy to manage at your desired height and shape with very minimal watering.
Leyland Cypress
Leyland Cypress is a tree rather than a shrub which means it will grow very tall if not kept trimmed. These evergreens can grow several feet in a single year and can reach heights of over 100 feet in a few decades. For this reason, Leyland Cypress might be a better choice for expansive properties rather than cozy suburban neighborhoods. It will provide beautiful and resilient shade in moderate climates and can withstand strong winds, making them a popular choice for coastal landscaping.
Mexican Sage
Mexican Sage is another excellent low-maintenance landscaping choice that requires very little water. One thing that makes it especially suitable for driveways is that it's extremely tough: the fully grown shrubs are resilient enough to recover even if a vehicle accidentally drives into them. Mexican Sage blooms with purple flowers during the colder seasons and will stay looking lush with its signature gray-green foliage throughout the year.
In choosing plants for your driveway landscaping always plant what's best for your region and climate. Regardless of what you decide to plant, drought-tolerant shrubs and trees will always be a water-saving and low-maintenance option.